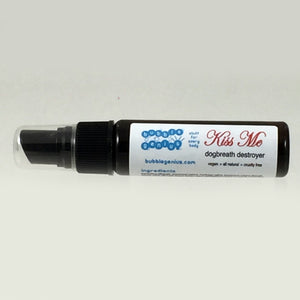 Kiss Me Natural Dogbreath Destroyer
Regular price
$11.00
$0.00
How could we, as responsible pet owners, not develop a breath spray for dogs? Yes, we really are dedicated in our quest to de-stink your best friend, inside and out!
Kiss Me contains human-grade extracts of Rosemary, Alfalfa, Fennel, Parsley, Ginger, Sage, and Peppermint and Spearmint essential oils, all excellent breath neutralizers and digestion aids. We added a little Stevia to sweeten it up. Shake well before using, to mix up all those powerful ingredients!
It travels in a 1 oz spray, easy to slip in your pocket.
INGREDIENTS: rosmarinus officinalis (rosemary) extract, medicago sativa, foeniculum vulgare (fennel) extract, salvia officinalis (sage) extract, carum petroselinum (parsley) extract, hedychium coronarium root extract, mentha piperita (peppermint) leaf extract, mentha viridis (spearmint) extract, glycerine, sodium benzoate, eupatorium rebaudianum bertoni leaf extract
---
Share this Product
---
More from this collection